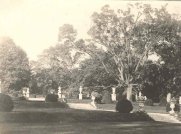 With its unique location near the capital of Slovakia, the park of Rusovce offers a little oasis of harmony and relax to today's frustrated person. Probably it is it's bounding to the nature, which was formed "the most European river – Danube" for centuries. In spite of not very friendly historical trend and evolution of ecosystems in last decades, the nature has preserved still good deal of rudimentary forces here.
First two decades after the World War II, the flora of the park grew rapidly from its basic core originated in times when there was whole team of gardeners of Lonyay's Stephaneum taking care of the park.
In 50-ies and 60-ies of 20th century, the park and the castle were stable point of every outstanding government visit - Sergej N. Chruscov, Gérard Philip, Valentina Tereskovova, Alexanders' performance.
In 70-ies and 80-ies, a plenty of cultural performances such as yearly Bratislava Culture Summer were took place here.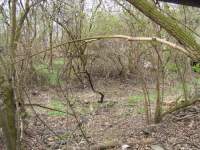 Unfriendly approach to the nature, total absence of professional maintenance and also the ecosystem changes in the Earth left deeper and deeper scars in our park's appearance. The worst period for the park was that after 1989, when "radical" trees cut was performed (about 90 trees). Never ending delays in competences about the park administration left this unique nature treasure at the edge of perishing.
The park with the Castle is in possession of the Office of Government, which aim is to have it as a representative residence. Let's hope that it will mean better park maintenance, but also that the park will serve also to people and it's gates will remain open.